The Affordable Countertop Solution
When your wood, laminates and scratch easy surfaces let you down, you know it's time to turn to nature's choice for durability – quartz. Eezi Quartz countertops don't just offer you amazing durability and a good-looking kitchen or bathroom finish. With Eezi Quartz you can rest assured that your countertops will serve you for life, at an affordable price!
Quartz is one of nature's hardest minerals, making it the best choice for a durable surface. Each Eezi Quartz surface is made of quartz aggregate, which is why it can last so long and still look so good! Our countertops come in 20mm thick slabs and are great for kitchen countertops, bathroom vanities and backsplashes. With 9 popular colours to choose from, you are bound to find an Eezi Quartz countertop to suit your home interior.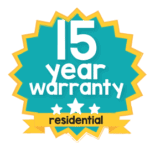 Eezi Quartz comes with a 15-year residential warranty and a 6-year commercial warranty. It is a hardy, engineered quartz surface material offered in nine designs – perfect for a neutral palette where little or no movement is preferred.