BLANCO represents competence in every aspect of the sink unit, and is one of the world's leading providers of high quality sinks and mixer taps for domestic kitchens.
The company was founded in 1925 and is Germany's biggest sink manufacturer, and produces sinks in the main materials stainless steel, Silgranit and ceramic.
Material
BLANCO sinks made of SILGRANIT stand out thanks to the elegance of the beautiful colours and attractive designs. SILGRANIT consists of 80% granite, which makes it ideal for daily life in the kitchen. The stony-silky surface and very finely pored, closed surface create a soft stone-like character that is wonderful to the touch.
Hygiene
SILGRANIT™ PuraDur™ with the patented hygiene protection formula. Hygiene+Plus is a shield against dirt and bacteria, and makes cleaning easier. Thanks to the unique patented hygiene protection formula, SILGRANIT™ PuraDur™II is antibacterial Tests confirm that the unique built-in hygiene protection reduces the growth of hygienically relevant bacteria by up
to 98%.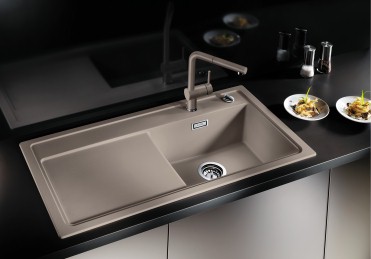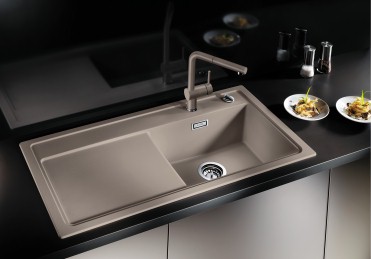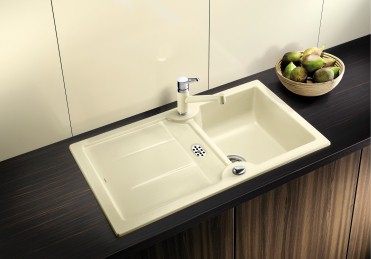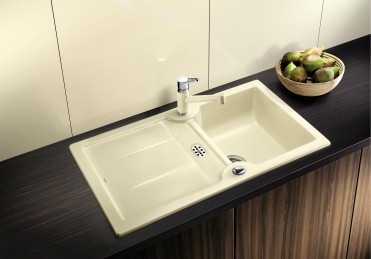 Rondo – R4,720
Cabinet size: 500 mm –  Bowl depth 165 mm
Pleon 5 – R4,835
Cabinet size: 500 mm –  Bowl depth 220 mm
Naya 9 XL – R5,800
Cabinet size: 900 mm –  Bowl depth 220 mm
Sona 5 S – R5,275
Cabinet size: 500 mm –  Bowl depth 190 mm
Naya 8 S – R6,705
Cabinet size: 800 mm –  Bowl depth 200 mm
Lexa 8 S – R6,435
Cabinet size: 800 mm –  Bowl depth 190 mm
Foldable Grid – R1,235
All prices exclude VAT
Stonehenge does not stock sinks on the premises due to the large varity of products
Subline 320-U – R5,545
Cabinet size: 400 mm –  Bowl depth 190 mm
Subline 400-U – R5,770
Cabinet size: 500 mm –  Bowl depth 190 mm
Subline 500-U – R6,220
Cabinet size: 600 mm –  Bowl depth 190 mm
Subline 700-U – R7,110
Cabinet size: 800 mm –  Bowl depth 190 mm
Subline 350/350-U – R8,580
Cabinet size: 800 mm –  Bowl depth 200 mm
All prices exclude VAT
Stonehenge does not stock sinks on the premises due to the large varity of products