NEOLITH is the largest high-tech porcelain slab, which offers the most efficient solutions for the most demanding architectural projects, as well as an extensive combination of colours and finishes, making it a designer product that can be used in numerous applications for interiors, exteriors and furnishings. Materials that define the future of the construction industry State-of-the-art products that combine functionality and beauty.
NEOLITH is an admirable competitor when compared to common slab materials such as marble, granite, engineered stone and other cladding materials. The versatile colours, matte finish, consistency, durability and remarkable size of these sintered porcelain slabs make Neolith a preferred product, particularly for large construction and development projects.
Countertop Edge Profiles
Below is a selection of edge profiles that can be applied to Neolith materials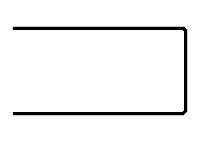 Square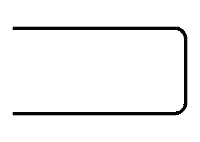 Double Pencil Round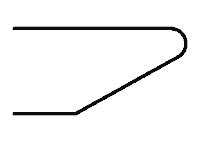 Knife Edge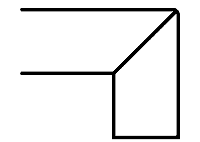 Mitered
Frequently Asked Questions
What is Neolith®?
Born in the last decade, Neolith – a Sintered Stone – is part of a new and revolutionary product category aimed at meeting more demanding architectural and design needs.
It is not at all what is known as traditional ceramic or stoneware but rather evolved from these materials to the point that a new type of surface was created which was non-existent up until that time. Neolith is pioneer in the Sintered Stone industry.
What is Sintered Stone?
Composition: 100% natural based on 3 groups of elements:
1. Minerals from granite: quartz and feldspar which provide the product with hardness and strength.
2. Minerals from glass and silica that provide chemical stability.
3. Natural oxides that offer chromatic properties.
How is NEOLITH® produced?
The Sintering Technology TheSize has developed to create Neolith replicates the process by which stones are naturally created over a period of thousands of years in just a few hours. It consists of subjecting the raw materials described above to very high pressures and temperatures.
The combination of raw materials goes through a press in a first phase where pressure of up to 400 bars is applied.
In a second phase, the slabs are placed in an oven where they are cooked at temperatures of more than 1200ºC. This process produces an ultra-compact decorative full-body surface.
Where can NEOLITH® be applied?
Because of the format and physical/mechanical characteristics, this type of product is ideal for an endless number of interior and exterior uses in business and private homes: countertops, floors, walls, facades, tiling, furniture. The only limit is your imagination.
Is NEOLITH® scratch-resistant?
Yes. Neolith is made of natural materials and is produced at very high temperatures and pressures which make it highly scratch and impact-resistant. However, sudden impacts, excessive temperatures and improper use can damage the surface of the material just like with any other surface.
The vitrified surface of the Polished finish requires greater care as it does not feature as much surface hardness.
*Take special care with ceramic knives:
Ceramic knives can scratch a Neolith surface irrespective of the finish just as they scratch other brands of the same and other product categories.
Will the small NEOLITH® sample I have coincide with the slabs once installed?
Variations in color, tone and pattern are inherent to the natural raw materials used to produce Neolith. The samples are cut from complete slabs and only represent a small portion of the complete slab. Please refer to samples simply to get an idea for the colors as there may be minor variations in the slabs actually installed.
What are the advantages of installing NEOLITH® instead of other materials?
Neolith is the latest in versatile products. Unlike other materials, Neolith can be used for any purpose which means architects, interior specialists, designers and owners can create a comprehensive, modern project. It is a light surface with a wide variety of finishes.
What Our Customers Say About Us
____________________________________________________________
Exceptional team
From your initial contact during your leave, to Gideon's follow up and site visit and lastly but not least Candice back up, I believe you have an exceptional team. I hope to have more work in the future and you will certainly be my first port of call or to recommend you to friends Thanks… Read more "Exceptional team"
Wendy K
Blouberg
True artisans!
Granite, marble, stone masters in what they do. True artisans! They helped us turn our house into a beautiful reality. Large selection of granite or stone or anything you dream of, they can produce it. 100% customer satisfaction and attention to detail. Thank you Dave and the team for your absolute dedication to your art.… Read more "True artisans!"
Johan B
Brackenfell
Highly recommended
Cannot tell you how happy we are with the workmanship. Your chief guy in charge with placing the granite is amazing , he is a true artist and should be highly recommended. Thank you so much for your professionalism with handling our work. I will recommend the firm to everyone. Over the last 6months we… Read more "Highly recommended"
Kym Y
Constantia
Well done from start to finish.
We would like to congratulate this company on a job well done from start to finish. From Gideon's pleasant personality & professional approach, to Candice's prompt quotations, to the efficient and dedicated installation team. The leader of this team needs to be commended on his professional approach & attention to detail.
Ursula B
Noordhoek
Amazing Service
I just wanted to write to say thank you for the amazing service received by your company. I am so impressed by everything you do. The job was handled so professionally and done so quickly. I cannot thank you enough. Going forward I will definitely recommend you to all our friends and family :-).
Amy W
Sunset Beach
Impressive service
I've just renovated a new home and Stonehenge were probably the best of all the contractors we dealt with. From speedy quotes and communication, to friendly and efficient on site measurements, and a super smooth installation, I was well impressed with their service and would definitely recommend them.
Kayleigh L.
Tamboerskloof
The kitchen I've always dreamed of!
Thank you Dave for the kitchen I've always dreamed of! Your advise and expertise made my kitchen look like it should be in a magazine. You have the great ideas on how to use marble in a way that i would have never thought. Next up is the fire place that you are going to… Read more "The kitchen I've always dreamed of!"
Ilze B
Durbanville
Excellent service and workmanship!
Thank you very much for excellent service and workmanship! Emmanuel is fantastic! He is the driving force behind the installation team. Well done to him. He is extremely professional and has an eye for detail. The kitchen looks amazing!
Nathalie R
Constantia
Excellent experience
Excellent experience from start to finish with Stonehenge. We visited the office to get a quote and received a detailed breakdown of costs within a day. The price was very competitive and on-site measurement followed a few days later. Installation followed shortly afterwards and was exactly as specified and we were very happy with the… Read more "Excellent experience"
Harry M
Hout Bay
Superior Service
Our counter tops look beautiful and your service was excellent. I really can't believe how superior it was-from the first time I phoned and dealt with you to the installation with Dave-you were both amazing. I would recommend you to family and friends.
Sam J
Claremont